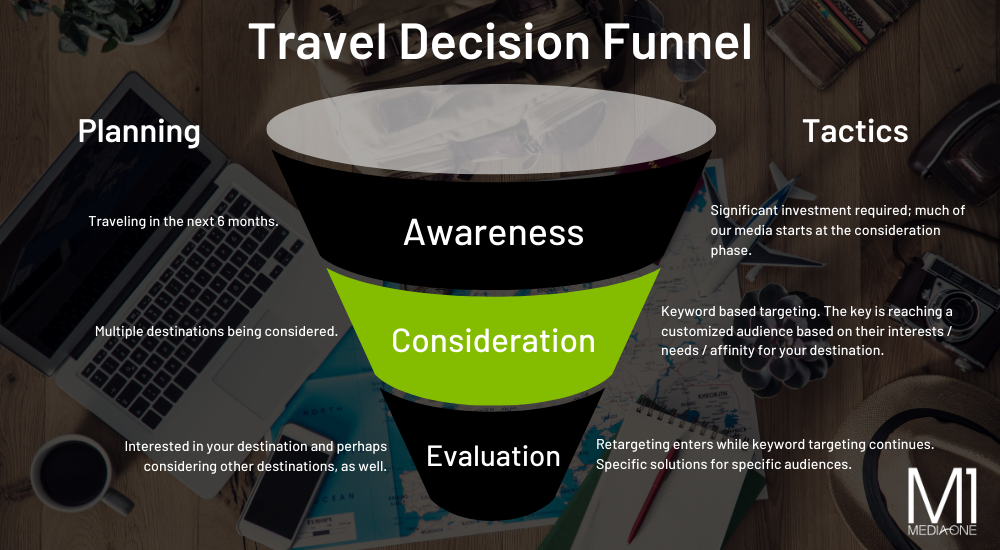 At MediaOne we are all about capitalizing on current developments to help our Destination Partners realize their competitive edge.  We recognize that the market for small to medium sized destinations is ripe to take market share from larger destinations that are close by and get the majority of search volume.  We call them challenger brands and have much success promoting and taking a bigger piece of the pie. Consumer demand for travel is busting at the seams. Here are some recent trends affecting the Vacation Destination Industry and metrics that drive the tourist decision making process.
1. According to Trip Advisor and Morning Consult:
74% of travelers say they will spend more time choosing a destination.
66% of travelers say they will spend more time reading reviews about destinations.
72% of travelers say they will spend more time selecting their accommodations.
70% of travelers say they will spend more time finding things to do at their travel destination.
The top factors that influence consumer trust in travel and hospitality businesses include:

Is reliable or dependable (85%)
Has good customer service and is responsive to problems (84%)
Protects customers' data, privacy and security (83%)
They have a good safety record (83%)
They make me feel secure and safe (83%)
Consistently delivers on what they promise (82%)
Is a good value for the price (82%)
Treats customers well, even in tough times (82%)
They regularly clean and sanitize (81%)
Has always treated me well (80%)
2. U.S. Travel Association reports some of the leading reasons why Americans Travel:
3. Now let's take a look at how consumers make their buying decisions:
A survey found that half of the more than 1,200 US adults say advertising is an important source of information when making a decision to buy
Search engines lead the way with 80% of the buying decision process
Shopper reviews
Online Video
Advertising
Influencers, bloggers and celebrities are at the bottom of the list
Advertising is important for travel and buying decisions. SEO is 80%, online video is 69% and advertising comes in at 50%.
At MediaOne we can influence them all – that's what we do best.
Let MediaOne be your guide in the dynamic space of digital media. We are agile and informed digital experts, ready to make sure your advertising message activates your target audience.